Archery Return to play Covid-19 rules
SOSA Archers return to play plan: effective October, 2021
We are committed to keep everyone safe and healthy during our indoor archery sessions.
Stay home and let others play safely
Archers, volunteers, coaches, parents (anyone entering the building) who are not feeling well or have been in contact with someone who has been sick should stay home and self isolate.
Access to Indoor Sessions
Pre-registration is required for every session and should be done by phone/text to 250-535-1833 on the day you wish to come and between 3-4 pm. There will be no drop-ins allowed. It is requested that only one adult attend with their child and refrain from bringing siblings when possible (we cant have young ones run around). No other spectators will be allowed entry.
All attendees must wear a mask and practice physical distancing.
Scheduled Times (Indoors: Starting October, 2021)
Mixed: Monday Evenings 6-9:30pm

Start : Thursdays Youth archery 6 to 7:30 - Adults 7:45 to 9:30
Measures to keep us all safe:
Group size limited to Provincial regulations
Participants are not required to wear masks when actively shooting, however, will be required to don a mask when not on the shooting line (pulling arrows, setting up equipment, ETC)
All participants should bring a folding chair if they wish to sit. There will be no chairs behind the shooting line.
Coach line 2m behind shooting line, coaches will wear masks. If a coach needs to approach/assist an athlete, the coach will sanitize their hands before and after working with the athlete.
Spectators must wear masks and abide by physical distancing requirements. No seating will be available for spectators; please bring a chair if you will be attending with your child.
One washroom will be available with access to only one person at a time.
Every attendee should refrain from touching items unnecessarily (tables, walls, equipment,ETC).
Equipment and sanitizing:
Archers should have their own bow, arrows, finger tab/release, arm guard, wrist/finger sling and bow stringer.
If you need to rent a bow and arrows, it is suggested you have your own finger tab, arm guard, sling. These items are to difficult to sanitize.
We will provide all archers with a scoreboard if you do not have your own. Take it home and bring it back each session. You
must
have your own pen.
One bow rack per buttress.
All partitions, bow racks, rental equipment, chairs, etc will be cleaned after each session. Your help to clean these items will be greatly appreciated.
Balloons may be used during the youth session ONLY if blown up with a pump by one of the coaches.
Everybody must bring their own masks, hand sanitizer/wipes, Water
Arrival and Departure Process:
You should arrive 15 minutes ahead of your designated shooting time. Those arriving earlier will be asked to wait outside. Those arriving late may be turned away and forfeit their session.
Upon arrival, participants will be asked to provide their full name and contact information (phone number and/or email address). This information is required for contact tracing purposes.
These records will be kept in a secure location for a minimum of 4 weeks
Participants will be required to answer screening questions.
Screening Questions:
All participants (coaches, athletes, spectators, volunteers) will be asked screening questions before interacting with anyone at the venue to ensure no one is symptomatic or at high risk. Should an Athlete reveal that they are generally unwell, symptomatic, or high risk, they will immediately be removed from the group, distanced from the group, and advised to wear a facemask until they can return home.
The screening questions will be:
Does anyone in the group:
Feel unwell?
Have a cough or cold?
Have a Fever?
Been in contact with someone who is known to have COVID-19 in the last 14 days?
Travelled out of province or out of country in the last 14 days, or been in contact with someone who has?
Have you sanitized your hands before entering?
Have you sanitized your equipment?
Shooting, Scoring, Retrieving Arrows:
Archers will move as a group on & off the shooting line and to retrieve arrows. Follow the instructions/whistles of the Coaches / Range Officers.
Archers will remain between the partitions while shooting and will be aware of physical distancing requirements when off the shooting line (behind the line or retrieving arrows). Ensure you put on your mask as soon as you step off the shooting line.
Bow racks will be available for each buttress and placed behind the partition. Avoid touching bows and arrows that are not yours or not assigned to you. No more than 2 bows should be placed on each rack.
When retrieving arrows, if sharing a target face, take care to not touch the target face or other people's arrows.
Maintain physical distancing protocols while retrieving arrows—if you are waiting to pull your arrows, stay 2m back. Once you have pulled your arrows, move back from the target butt to allow the next person to pull their arrows. Be aware of people at the butts beside you and ensure to keep your distance.
If you have difficulty retrieving an arrow and need assistance, notify a coach/range officer. Step back and provide them room to assist.
If you are keeping score, you
must
supply your own pen. Use a scoring app (Artemis or other), bring a notebook, or ask for a scorecard. If you are submitting your score for JOP or mail match, your scorecard will be placed in a box for 7 days (quarantine period) before being verified/processed. Please have patience while scores are being updated. Alternately, a picture may be taken of your card to speed up processing and you may take your card home.
Used target faces: if you are shooting on a 40cm target, please remove your target from the buttress when you have finished your session. Take it home with you (and bring it back the next time if it is still usable) or discard it in the garbage bin. Please do not leave it on the butt or on a table.
When you have finished shooting and packed your things, it is appreciated if you help with sanitization. Wipe down anything you may have touched or come in contact with: table where you set up your gear, chairs, butts, target pins, bow rack.
Return to Play Plan Enforcement:
All participants will be monitored for compliance and we appreciate that on occasion a participant may unintentionally break from compliance. To keep everyone safe, any participant who cannot meet the ongoing requirements will be prevented from attending.
Participant Agreement:
The following applies to all athletes, coaches, members, volunteers, participants and family members of participants while in attendance at club activities ("Participants")
All Participants of SOSA Archery agree to abide by the following points when entering club facilities and/or participating in club activities under the COVID-19 Response plan and Return to Play Protocol:
•
I agree to symptom screening checks and will let my club know if I have experienced any of the symptoms in the last 14 days.
•
I agree to stay home if feeling sick and remain home for 14 days if experiencing COVID-19 symptoms.
•
I agree to sanitize my hands upon entering and exiting the facility, with soap or sanitizer.
•
I agree to sanitize any club equipment I use throughout my practice with approved cleaning products provided by the club (shared and personal equipment).
•
I agree to continue to follow physical distancing protocols of staying at least 2m away from others.
•
I agree to abide by all of my club's COVID-19 policies and guidelines.
•
I understand that if I do not abide by the aforementioned policies/guidelines, that I may be asked to leave the club for up to 14 days to help protect myself and others around me.
•
I acknowledge that continued abuse of the policies and/or guidelines may result in suspension of my club membership temporarily.
I acknowledge that there are risks associated with entering club facilities and/or participating in club activities, and that the measures taken by the club and participants, including those set out above and under the COVID-19 Response Plan and Return to Sport Protocols, will not entirely eliminate those risks.
Starting
We are back indoors Oct 7th, except on holidays: on Monday (mixed group) and Thursday nights at 6 PM. for youth and 8 pm for adults; due to COVID rules you must pre-book a time slot. This is done by contacting Mary by Text or phone 250-535-1833 between 3PM and 4 PM and if there is room we will let them know.
If you are a new member wanting to come to archery, email a few days before so that you can be sent a Covid info package containing the information needed to join us.
Contact Mary at mostermeier49@gmail.com.
We prefer that you have your own equipment but Equipment is available as well.
Air Cadet address:
5856 - Cessna street
Oliver, BC
Outdoors
As a member of SOSA you can use the outdoor archery range at the bowl every day except when it is closed for a special event which is not very often. There is a new crossbow butt for your use it is the one closest to the sand pit that is used for broadhead shooting.
The sand pit is the only place you can shoot broadheads into!

Equipment
These target butts are for use by normal target equipment there is to be no broad heads used on them. At this time, no crossbows are allowed to be shot at these butts as they require a special butt designed to stop the bolts and allow for retrieval without destroying the butt. If you are a club member and have a cross bow contact me and we will see what can be done. Ron Ostermeier 250-689-3993
Our coaches are certified with the Coaching Association of Canada.
For more information contact Mary Ostermeier, email: mostermeier49@gmail.com
Fees:
All Youth to age 18 years : $6.00
Adult SOSA members : $6.00
BC Archery Members : $7.00
Bow Rental available : $5.00
Our Junior Program is run through the
BC Archery Association
and the awards for achievements are supplied by them. Qualified coaches run this program and the youth develop at their own pace. To participate in this program you are required to be a member of the BC Archery Association. The program is called JOP and is for youth between the ages of 6 to 21. Through this program we run a Mail Match with all the clubs in the province, a Regional tournament shot at the club and Provincial Indoor and Outdoor Championships in 3 or 4 locations in province.
To find out more about the program and the
BC Archery Association
For the adults you will also be given coaching if requested as well we compete in mail matches across the country plus other events so come see us.

We also train our youth to be able to try out and compete at provincial events. We are currently working to train youth born in 2005 /2006 / 2007 for the BC Winter games to be held in Vernon this coming Feb 2022
From Past events

Winter Games 2012
Our club provided a coach "Mike Ford" , a official "Ron Ostermeier" a chaperone "Mary Ostermeier and one Archer Ceridwyn Olafsson
who came home with a Bronze Medal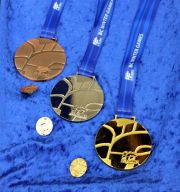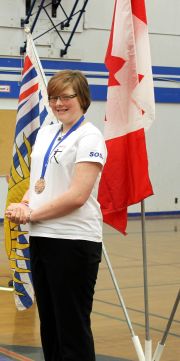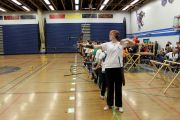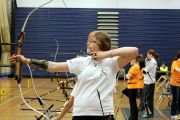 BC Winter Games in Terrace March 2010.
We had from Oliver; three youth shooters, two coaches and two judges.
We came back with a Bronze Medal won by Jessica Souto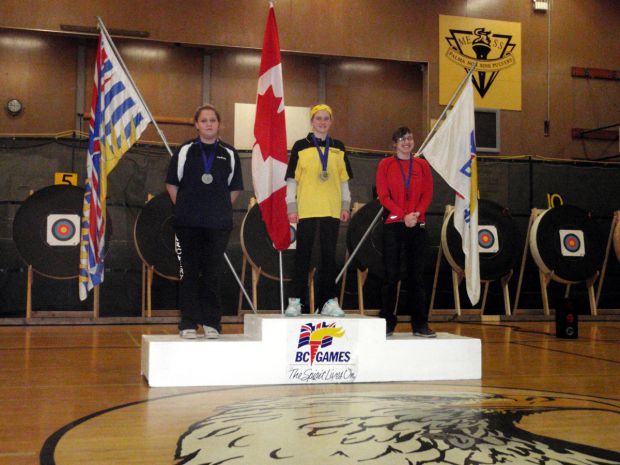 Group Photo of the Participants , Judges, Coaches and Support staff