Archery
We are back indoors now, except on holidays: on Monday nights at 6 PM. for adults and youth that have some experience. Also on Thursday nights for youth and adults starting at 6PM, this is a great time to learn how to shoot and to hone your skills under the supervision of a certified coach; contact Mary at 250-498-3205 or mostermeier49@gmail.com.
Equipment is available as well we will teach you how to shoot with certified coaches.
Air Cadet address:
5856 - Cessna street
Oliver, BC
As a member of SOSA you can use the outdoor archery range at the bowl every day except when it is closed for a special event which is not very often.

Equipment
These target butts are for use by normal target equipment there is to be no broad heads used on them. At this time, no crossbows are allowed to be shot at these butts as they require a special butt designed to stop the bolts and allow for retrieval without destroying the butt. If you are a club member and have a cross bow contact me and we will see what can be done. Ron Ostermeier 250-498-3205
If you need to rent archery equipment during the summer months you will have to give us a call before you come to archery as we don't always bring the rental equipment with us.
Bow Rental available : $5.00
Our coaches are certified with the Coaching Association of Canada.

Indoor Shooting: Youth
We are now back indoors at the Air Cadet building, on Thursday nights starting at 6pm for the kids and if there is room their parents until 7:45; after that it is adults until at least 9:30. The cost to shoot indoors is listed below: We also have equipment for rent, cost is $5 per night; the first night there is no charge for the equipment.
For more information contact Mary Ostermeier, email: mostermeier49@gmail.com
Fees:
All Youth to age 18 years : $6.00
Adult SOSA members : $6.00
BC Archery Members : $7.00
All other adults guests : $10.00 three times only
Bow Rental available : $5.00
Our Junior Program is run through the
BC Archery Association
and the awards for achievements are supplied by them. Qualified coaches run this program and the youth develop at their own pace. To participate in this program you are required to be a member of the BC Archery Association. The program is called JOP and is for youth between the ages of 6 to 21. Through this program we run a Mail Match with all the clubs in the province, a Regional tournament shot at the club and Provincial Indoor and Outdoor Championships in 3 or 4 locations in province.
To find out more about the program and the
BC Archery Association
For the adults you will also be given coaching if requested as well we compete in mail matches across the country plus other events so come see us.

We also train our youth to be able to try out and compete at provincial events.
From Past events

Winter Games 2012
Our club provided a coach "Mike Ford" , a official "Ron Ostermeier" a chaperone "Mary Ostermeier and one Archer Ceridwyn Olafsson
who came home with a Bronze Medal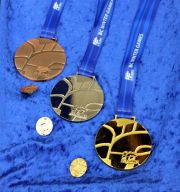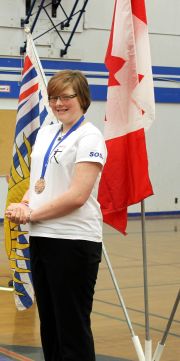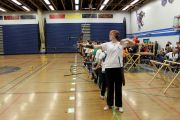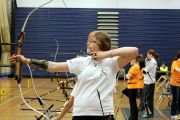 BC Winter Games in Terrace March 2010.
We had from Oliver; three youth shooters, two coaches and two judges.
We came back with a Bronze Medal won by Jessica Souto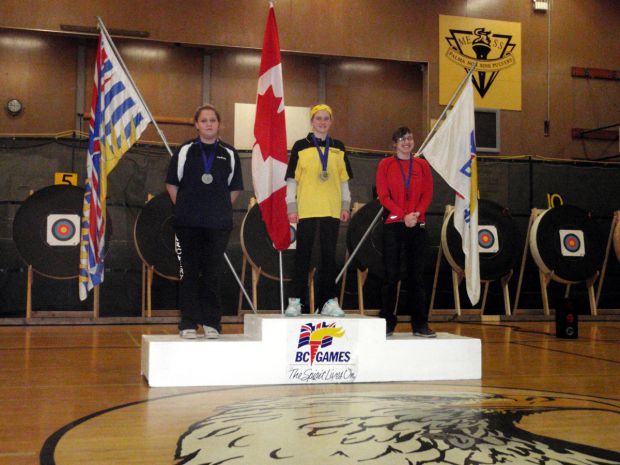 Group Photo of the Participants , Judges, Coaches and Support staff